As people age, it becomes difficult for them to carry out routine tasks that's why many peoples hire Private Home Care For Seniors. They might find it hard to do stuff like bathing, changing clothes, cooking and eating etc. They might not realize it because they fear to acknowledge their dependence on others for such small things they have been doing themselves for the whole life. It definitely hurts you to see your loved ones juggling to look after their routine tasks and their health at the same time. It is painful to see their unorganized home, untidy clothes, less food in the refrigerator and unwashed utensils in the sink. You instantly get a feeling that they need assistance that you have not been able to give them due to the burden of other responsibilities.
Private Home Care For Seniors
Although it is difficult to acknowledge that your loved one needs private home care assistance and they might react negatively towards this conversation. The reason is clear they brought up their kids when they need their help and now it is their turn. However, you have to approach the subject with utmost love and patience without making them realize you have been insensitive towards them. They often get the scars of injuries falling off the floor while doing home stuff. Your heart aches to see your loved one in such a state and you need to break the ice talking to them about the solution.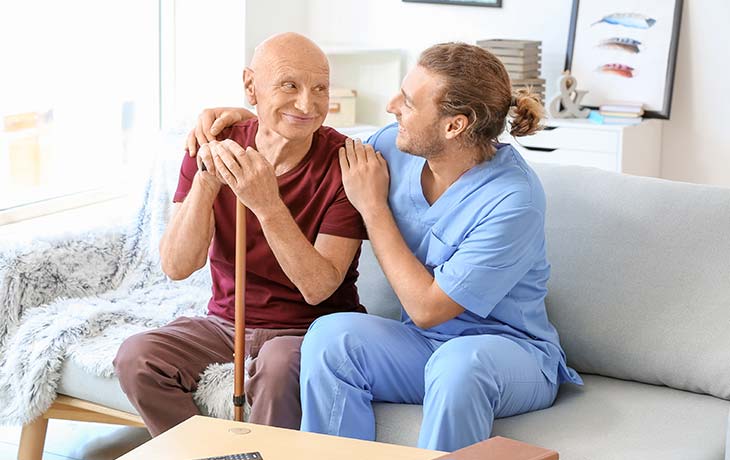 You can use words that reflect your concern like I have been worried about your health, what do you think we should do to deal with it? Or like I have noticed you are wearing the same dress again. What about hiring a helper to help you do laundry and getting dressed? Aging is a natural phenomenon and a person alone cannot do the routine tasks at this age as they lose capacity and energy. Some of the ways through which you can convince your loved ones to have assistance are highlighted in this article.
Here are some of the ways in which you can make your elder loved ones realize that they need the assistance of private home care for seniors.
Expressing your concern
At an elder age, people naturally become a bit emotional and sensitive about these kinds of topics. They are not ready to accept the situation that they need assistance other than their family members. First of all, make them accept the situation that aging is a natural phenomenon and every person goes through this sooner or later. Talk to them about the situation that they feel worried about their health as they skip taking their medications on time and they remain worried throughout the day thinking about your health. Use polite words instead of rushing through hard words like you need home care assistance.
Involvement In Decision-Making
Mostly, the reason why elder people do not indulge in the idea of assistance is that they feel they are a burden on you. They brought up their children and provide every means of help they need throughout their childhood. When they turn old, they expect the same from their kids to look after in the same way they did. When you will not consult with them or have a conversation about having private home care assistance, they will feel neglected. Unless your elder ones do not have the capacity to understand or suffering from mental disability, you should involve them in decision-making.
Reasons Behind Resistance
It is a natural thing that elders offer resistance to hiring assistance particularly to look after them. There could be many reasons behind this fear that includes loss of independence, dignity, and sometimes financial stress. It is of utmost importance that you find the real reason behind their resistance. One of the biggest reasons is that they think they will lose control or hold of their house by hiring assistance. The idea of not being able to do the work themselves, like they were doing in the past, scares them and pushes them to show straightaway resistance.
Furthermore, they feel hiring assistance will reduce their meet-up sessions with friends and the major one is that not everyone stands the interference of outsiders. You have to make them understand that these are just fears. You will have the same authority and rules as you have previously before hiring private home care for seniors. Take out some time and initiate a conversation on this topic. Give them ideas and suggestions on how to provide them with proper care. Give them some time to think and let them make their final decision without imposing your decision on them. You can convince them by making up their mind that you are hiring assistance for a small period and not permanently.
Mention The Advantages
It is better to aware of the advantages of having private home care assistance. Mostly, elder people prefer this because private home care has the prime advantage of getting assistance by staying at your own comfortable assisted living at home without moving to a new place. You can make your elder one understand this advantage that they can get assistance under their roof. List the benefits that they will have 24-hour independence and besides this, they will have someone who can assist them in daily routine tasks and intake of medication. If they have recently suffered from some injury while carrying themselves, you can make them understand by giving them such examples.
Enlisting Third-Party Opinion
It would be a benefit if you know or have known a person who has received long-term home care assistance. You can mention them to your elder one while having a conversation and can also make them talk to that person. When they will talk to the person who has already received the assistance will help them overcome their previously mentioned fears. If you have a physician whom your elder one visits frequently for regular checkups, you can get their help too. Being a physician they already know their patient is in a state that they need assistance for proper care. They can make them understand the situation better. Otherwise, there are also home care managers that have been dealing with thousands of such families. They can tell you the efficient ways through which you can convince your loved ones that they need assistance.